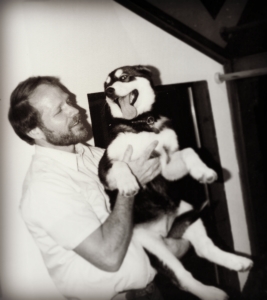 It has been seven years. If you had never gotten sick—if you had lived—who would you be now? Would you still love peanut butter sandwiches and fishing in the waters of Puget Sound? Would you still be a golfer and a jokester and the grounding force in every room? Would I still see tears in your eyes when you are moved by social justice? Would you still say to me (now at age 39, almost 40) "Way to go kid"? Memory is sometimes fickle, other times an iron burning a deep mark in wood. Here is one of those deep marks distilled in a poem. Here you are, a version of you from many years ago, still clear in my memory.
WATCHING HIM TIE THE CORDS
for my father
One summer, they come—
pups with wet fur, slick in their amniotic gloss.
My father flops each black body over like a fish
to reveal the pink bellies and the gray umbilicals.
He cuts and ties each cord like a fishing line.
I recognize his gentle one-handed turn,
remember when the knife sliced
the salmon's pink flesh, scored the scales
and one glazed fish eye stared back at me
across the bloodied sink.
Today, he strokes each tiny body, ties
the cords into knots and places the pups
at their mother's row of plump nipples
for their first suck of life.
c. Courtney Putnam, 2015