My first photographs for Susannah Conway's December Reflections 2015 challenge come in a set of there here:
December 1: SPARKLE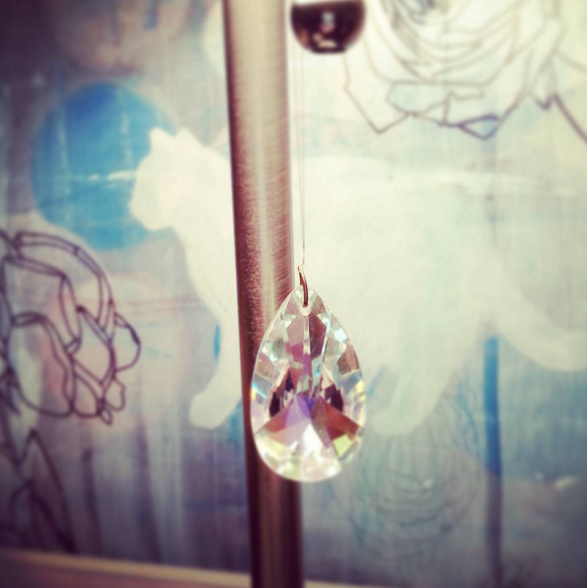 I purchased this crystal when my cat Mountie was the process of dying about four years ago. I placed it near him to provide comfort and clarity for his transition. In retrospect, this crystal was more of a comfort to me, since it is hard to know what to do when someone you love is dying. At least I was able to set an intention with this crystal and create some beauty.
Now I hang this crystal in my office. It dangles from a lamp so that it can sparkle any time I turn on the light to remind me of all the passages I have endured — my animal companions, my grandparents, friends, and my father. This crystal reminds me of the light that can be found around the edges of loss when we illuminate it with healing intention.
December 2, 2015: HOT DRINK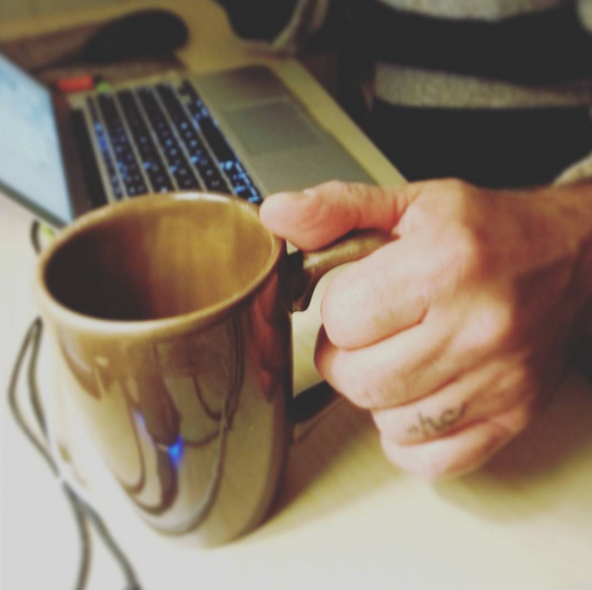 I see this view quite a lot in my life — my husband's hand holding a chocolate brown mug filled with coffee. This is another view of Walter's groundedness. Even holding his mug, he is geologic. When the winds of anxiety, worry, and sadness surround me, Walter's steady sip brings be back to the earth.
December 3, 2015: BEST DAY OF 2015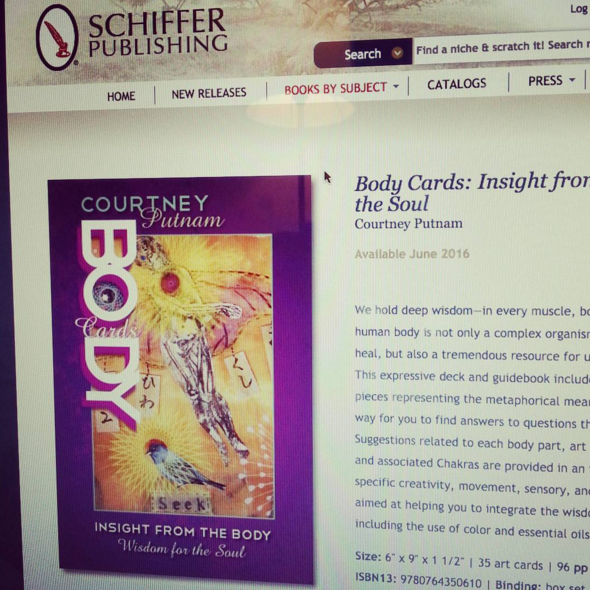 I don't know how I can possibly choose just ONE best day of 2015, for there were many good days sprinkled about. I will say, though, that learning that my book/card deck BODY CARDS: Insight from the Body, Wisdom for the Soul is going to be released in June of 2016 makes it to the top of my list. The tiny kernels of inspiration for this writing & art project began over 13 years ago in my living room with my best writing buddy Kristen during one of our weekly writing groups. Almost three years ago, Schiffer Publishing accepted my book proposal and now it's an actual book that's going to be released next year! This whole process reminds me to stick with my creative projects, but to also give them breathing room. I can't crowd them or force them to be something too soon. I must nurture them and let them be what they want to be.