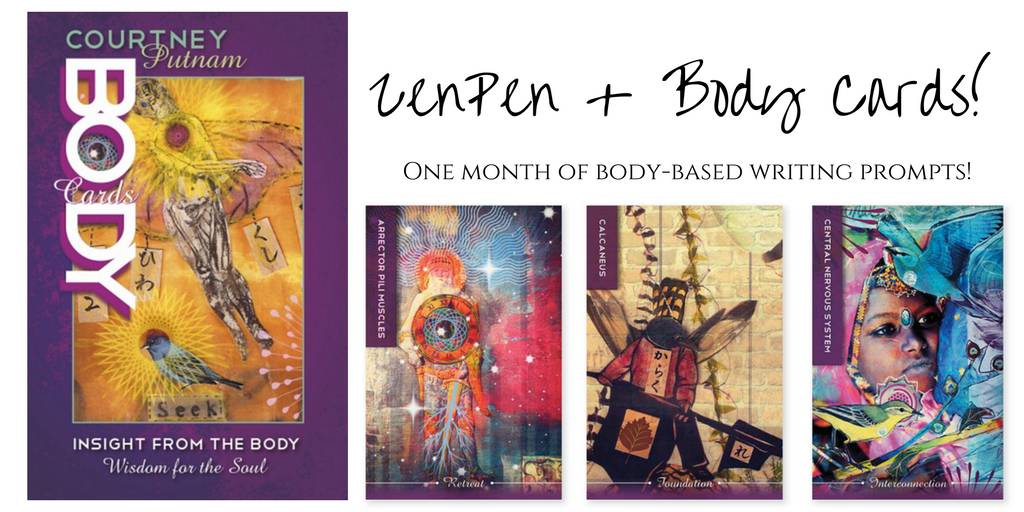 To celebrate the release of my book and card deck Body Cards: Insight from the Body, Wisdom for the Soul, I will be offering ZenPen for FREE this autumn! I've also recently re-vamped ZenPen to include wisdom from Body Cards, so you'll be able to get to know many of the cards in this month-long experience.
WRITE to know yourself deeply, to understand your true longings, and to transform not only your writing but the way you view your wondrous, beautiful self! Join me for a flourishing season of ZenPen writing!
Dates: September 12 – October 12, 2016



Registration is now closed.
Cost: FREE!



How this works: You sign up, provide your email address, and every day between September 12 and October 12, you will receive one ZenPen writing prompt right in your email inbox. If you want to add a community experience to your month-long writing, please join the private ZenPen Facebook Group to share your process and/or writing!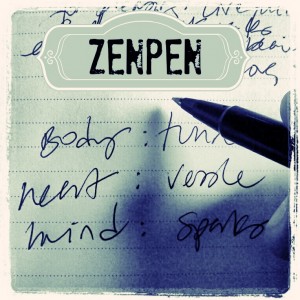 The History of ZenPen
In the spring of 2012, I started a writing group called "Writing for Healing and Transformation." Every Wednesday for a few months, I hosted the group in my living room. For an hour each week we wrote together in a style that was later named "ZenPen" by one of the members (thank you, Lauren!). Each session was like yoga for writers: we gathered, we sweat a little, we stretched, we wrote, we shared bits of our process or moments in our writing we found interesting, we listened to our bodies, we wrote more, we sipped tea, we went deep, we laughed, we pet the cat when he walked by, and we were witnesses to each other. Our journals were our yoga mats.
This wasn't a writing critique group; this was a group about BEING with ourselves wholly and deeply. This group was about writing being the vehicle for our healing and transformation. ZenPen has been in my heart since our live group and has made its way into my blog posts, into a growing Facebook page, and into my own writing process. Later, I decided I wanted to take this very healing, body-based writing process to an online format so more people could benefit from it. Writing is a very intensely personal process and I want to honor that while providing structure and community, so an online format was born. Here we are.
How is ZenPen Distinct from Other Writing Methods?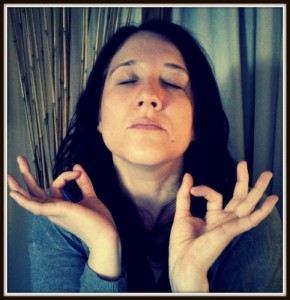 What's different about ZenPen is that it is body-based. What that means is that during the writing process, we will tap into the wisdom of our bodies. Our minds can only get us so far — and sometimes our minds play tricks on us or lead us down roads of self-criticism or limitation. The body holds all the information, wisdom, and experiences we've had in our lives. It plays no tricks. It tells us the truth. In addition to writing exercises, I will be offering exercises for your body as well — exercises involving breath, movement, the senses, and more.
One of my mottos is "when you're stuck, move," and I wholeheartedly believe that when we get stuck in life we need to move in some way — move our bodies, move to a new environment, move our hand across the page in a new way, and shift our focus from brain-writing to body-writing.
Who is the Course For?
This course is both for established writers who wish to tap into their creative process in a vastly different way AND for anyone who wishes to write more fully, write more often, or experiment with how writing can be a tool for healing. No specific writing experience is required. In this course, you will be writing, experimenting, seeing your life differently and engaging all your senses, and exploring all that you are. There is no "right way" to participate in this ZenPen program. What you put into it is what you get out of it. You will each have your own personal intentions for being here or maybe you're not sure quite why but you will discover it in the process…of writing!
What participants have to say about the ZenPen E-Course:
"I love that we incorporate our bodies into our writing — or rather, let them do the writing for us. I've been trying to learn more about how to heal through my body and what it remembers, so I'm excited to add one more process in my journey. Thanks for giving me an opportunity to explore and heal here." — Faith

"Your prompts, and the writing I crafted in response to them, at various moments made me take deeper breaths, burst into tears, listen more closely to various parts of my body, feel connected and warm, mourn, hope, build courage, and so many other things. Thank you." — Jessica

"I have been journaling and studying all things journaling for four decades and the content here is very interesting and the information was new to me. I know have a whole new landscape to explore in my journaling. Thank you. — Bheki

" Through ZenPen, I learned to trust the moments of unfolding. I have the tendency to crumple my writing up if it's not shining right from the start. Using the "It doesn't have to make sense…" mantra fosters that trust, the flow of my writing, and my general creative burn. I grew aware of how hard I was on myself for not getting to the work here as often as I had hoped. Through the videos, over and over, you stated that the pace of this course is flexible. Hearing this as often as I did, it finally began to take hold and I could relax and even enjoy the work I had done. It's all part of the walk, yes? Thanks for your gentle nurturing approach. " — Stephanie

"I loved the various exercises each week so I could choose what fit me best each day. And the quality of the information is rich! Through the ZenPen process I learned how to sit with myself – to sit with the emptiness and to listen to my body to find the words of my soul." — Kim

"That's why this course has been so helpful: little by little, I am seeing small ways to improve my awareness of my body, and now I can include it in that powerful triumvirate of mind-body-heart. I am only starting on this kind of awareness training, but I am already seeing the benefit: I am more present, less violent with my language towards myself, and much, much more forgiving of my 'human-ness.' Your course is tying in nicely with everything else I am learning about right now." — Lauren

"Courtney is amazing. And I was needing a 'reason' to start writing again, but felt like if I just tried it on my own I'd be discouraged with more grocery-list type entries (from the head) rather than really getting some creative writing out. Through the ZenPen process, I learned that my body has a whole lot more to say that my Big Bad Mind won't let it. Sorta like a stern parent, my mind REGULATES, and so when I can put my mind in time-out, then my body feels free to open up and give me lots of good stuff to work with!" — Jenna

"I learned to not rationalize too much, to listen to my body, to trust myself and my instincts, and to know that it's OK to not make sense! I struggle with anxieties that something is wrong with me because I find great differences between me and many other people, but I'm slowly learning/struggling/challenging myself to believe that my differences are me and there's nothing wrong with that. I've gained new perspectives from this course and I am very grateful for you Courtney." — Hafsia

"ZenPen is helping me to be more present and loving with myself. It is facilitating a deepening relationship with myself that is necessary for me to be more of ME. I love your insights and exercises and the way you share yourself — very inspiring!" — Rachel

"The ZenPen E-course was outstanding in quality and quantity. I liked having lots of things to return to throughout the week — writing prompts, body work, videos, mid-week inspiration, and posting. Courtney's replies to my CourseCraft posts were the highlight of the course for me! Through the e-course, I learned that I can do what I thought I couldn't (write from my body) and that it's an ever-expanding opportunity I can keep returning to and deepening." — Nicole
FREQUENTLY ASKED QUESTIONS
When does the next ZenPen start? Sunday, September 12, 2016
How long does ZenPen last? One month.
What is ZenPen? It's body-based writing for healing, personal growth, and transformation.
Is ZenPen a writing critique group? Nope! It's all about process and you can go at your own pace, sharing however much or little you want.
What if I don't feel like a good enough writer? This course is not about perfection or any sort of prescriptive standard. It's about self-exploration and self-expression. No writing experience necessary.
What if I am a very accomplished writer? What would I gain from ZenPen? A totally new approach to your writing process, a deepening of your process, subject matter, and writing style, and a more holistic sense of self. You'll surprise yourself where your creative muscles can travel with the ZenPen process.
Do I have to share my writing? I have created a Facebook Group for sharing. What you share and how much you share is totally up to you. You can share your process and/or a snippet of something you've written — or nothing at all. I encourage some sharing because I've found that there is so much connection that happens with the group when sharing, particularly of process, occurs. But again, it's totally up to you.
How much does it cost? FREE (in celebration of the release of Body Cards!)